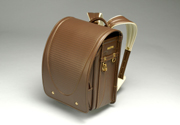 NAAS Co., Ltd. (Headquarters: Adachi-ku, Tokyo; President: Mitsunobu Yoda) today announced that it would commence sales of new school bags for elementary school students from December 15, 2006. The bags will be marketed under the GOLDPFEIL brand name as part of a licensing agreement with a world-renowned, German-based manufacturer of quality leather goods. Priced at ¥90,300 (including tax) and offered in a choice of five colors, the GOLDPFEIL school bags will be sold nationwide at major department stores, including Takashimaya, MARUI, Mitsukoshi and Sogo. In combining the highest quality man-made leather with pure craftsmanship, elaborate and innovative design, as well as attention to the finest detail, NAAS has produced a bag that upholds the GOLDPFEIL brand name.
Founded in Germany in 1856, Goldpfeil GmbH is a world-class manufacturer of leather goods, such as travel bags, briefcases, handbags, wallets and other leather items. Renowned for their use of the best natural leather, sophisticated design and master craftsmanship, Goldpfeil maintains a prestigious status as a manufacturer that is held in high esteem in Germany, other European countries, Japan and elsewhere in the world.
Clarino, Kuraray's man-made leather, is used as the base fabric for the new GOLDPFEIL school bags. Experienced craftsmen from Lorica Sud S.r.l. (Headquarters: Milan, Italy; Plant: Sardinia, Italy), a distinguished company specializing in the tanning of man-made leather, soften, color and tan the ground fabric. The processed fabric, " Clarino Finished by Lorica," features a natural full-grain surface, vivid yet velvety shades of color and a premium texture commensurate with an Italian-made label.
In keeping with the GOLDPFEIL brand image, which exudes the highest quality, the design concept strives to project a new image of the GOLDPFEIL brand. Despite the ample curve of the cover flap, the bag offers a compact look thanks to the visual effect provided by parallel lines imprinted on the front flap. The GOLDPFEIL name is embossed graphically on the side. A pocket attached to the main compartment utilizes curvy lines to create a sense of depth. This beautiful and practical pocket is testimony to the experience and expertise of leading craftsmen. Other features of the bag include champagne gold stitches, metal buckles that evoke a sense of tradition, and gold plating with a matt finish that reinforce the image of quality.