Kuraray produces calendars every year with 'Nature' as a theme. These calendars have been highly praised for their ease of use.
Continuing the theme of 'Nature,' and keen to support brilliant young talents, the 2007 calendar has been re-created as a stage to launch the work of a new photographer.
The photographer we have selected this year is the self-taught Yuka Hoshino, an active lady who spent the better part of a year taking photographs of where the Earth is enchanted by the stars. Her landscape photographs are overflowing with love for the Earth, and anybody who looks at them will certainly be moved.
We have produced a 14-page calendar using one of Ms. Hoshino's photographs for each month, a cover and an overview.
1. The Calendar's Features
(1)

Practical and attractive as an interior accessory, with an easy-to-use design

(2)

The date column has plenty of space for writing in appointments and notes, the date is shown clearly and in large type so that it can be read from a distance

(3)

A sensible B3 size (53 cm long × 36 cm wide)

(4)

A thumbnail view on Page 14 shows the photographs for each month with background information.
2. The Photographer, Yuka Hoshino
Born and currently living in Kyoto. Her sign of the Zodiac is 'Pisces'
Self-taught in photography, contributes to photography magazines
Won the 2003 Best Picture Award from the Fukei Shashin ( landscape & nature photographic magazine) published by Boutique Co., Ltd.
Goes on photo-shooting trips using money earned through part-time work. In one year, spent more than 200 days photographing.
3. The 2007 Calendar 'The Glittering Stars' list of photographs
Cover…Flower Dance:
Near Matsumoto City, Nagano Prefecture
January…Paradise:
Yaedake, Motobu, Okinawa Prefecture
February…Bright Light:
Karakunidake, Miyazaki Prefecture
March…Spring Crystals:
Otari, Nagano Prefecture
April…Misty Plumage:
Daigonji-Kogen, Niigata Prefecture
May…A Lonely Cherry Tree:
Betsukai, Hokkaido Prefecture
June…Night is Born:
Yuya Bay, Yamaguchi Prefecture
July…The Sound of Waves:
Shiori Pass, Uonuma City, Niigata Prefecture
August…The Continuance of Life:
Odaigahara, Nara Prefecture
September…Treasure Hunt:
Yatsugatake Waterfall, Koumi, Nagano Prefecture
October…After the Rain:
Appi Kogen, Ashiro, Iwate Prefecture
November…The Frost on the Green:
Utsukushigahara, Nagano Prefecture
December…Love at the Water's Edge:
Koijigahama, Aichi Prefecture
Thumbnail view of each month's photographs (Page 14)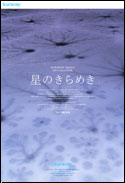 'The Glittering Stars' Cover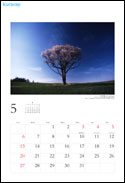 'The Glittering Stars' May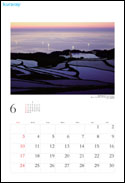 'The Glittering Stars' June