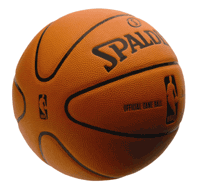 Spalding's basketball, made with CLARINO man-made leather by Kuraray Co., Ltd., has been adopted as the official game ball ("Game Ball" hereafter) of the National Basketball Association (the professional basketball league in the U.S., "NBA" hereafter), which has changed its Game Ball for the first time in 35 years. This new Game Ball will be used for the NBA's 2006–07 season, which will start on October 31.
The first man-made leather ball in the NBA/Innovative design with 2 interlocking panels
In the 60-year history since the NBA's foundation in 1946, this is the first time that a man-made material other than natural leather has been used for the Game Ball. And this is only the second time that the Game Ball has been changed in 35 years, the first being in 1970 when a 4-panel ball was replaced by an 8-panel ball.
Compared to natural leather, the CLARINO material used for the new Game Ball achieves high grip and control capability due to its comfortable fit in one's hand and its nonskid characteristics against moisture such as sweat. The new ball does not need the "break-in" process carried out before the game and is consistent from ball to ball.
Another feature of the new Game Ball is that it has adopted new technology-interlocking cross-panel design-that is comprised of two propeller-shaped panels that interlock rather than the eight oval panels found on traditional basketballs. This provides better design, grip, handling and so forth than the traditional balls.
Kuraray has worked with Spalding, the official supplier of the NBA Game Ball, on the development and improvement of man-made leather for basketballs for the past 20 years. Spalding has already adopted CLARINO man-made leather for the official game balls of the NBADL (National Basketball Association Development League) and the WNBA (Women's National Basketball Association), and it was used for the game balls for the 2006 NBA All-Star Game held in Houston, Texas.
Spalding, which has been the official supplier of the Game Ball since 1983, will continue to produce all the balls for NBA practice, exhibitions, games and international competition. It also holds the exclusive right to produce and sell a complete lineup of NBA and team-identified balls in all sizes.
Adopted also for the bj League in Japan
The "bj League" Japanese professional basketball league has adopted the same-spec ball as their official game ball for the 2006-2007 season, which will start on November 4. The balls will be supplied to the bj League through a distribution system supported by a partnership agreement between Spalding, Itochu Fashion System Co., Ltd. (the master licensee for "SPALDING" since last season) and T.M. Sports Corporation, the official importer and sales representative in Japan for the game balls.
(*)

Kuraray will give away one "bj League" game ball at the end of every bj League game during its 2006–2007 season. (1 game ball per game for 160 games)