Kuraray Trading Co., Ltd. (Headquarters: Osaka; President: Tetsuzo Kimura), which handles the Kuraray Group's trading divisions, is supporting the "MOTTAINAI (Don't Waste Resources)" campaign, which aims not only to establish a recycling-based society but also to bring to fruition one that is sustainable and plans the efficient use of its resources. The support for this campaign, which seeks to prevent desertification and global warming through afforestation, involves participation in a movement that shows how conducting everyday business can contribute to conserving the global environment.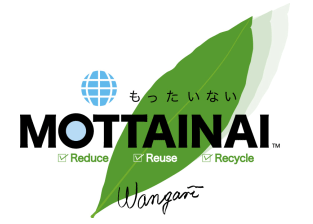 "MOTTAINAI" Campaign

The "MOTTAINAI" Campaign got its start when Kenyan Nobel Peace Prize laureate Wangari Maathai proposed that the Japanese expression "mottainai" be used as the keyword for environmental conservation throughout the world. The movement focuses on putting the 3R's into practice: reducing waste, reusing limited resources efficiently and recycling resources. In keeping with the MOTTAINAI business philosophy, corporate sponsors will donate part of the profits earned from the sale of products to the pro-afforestation Green Belt Movement founded by Maathai to prevent desertification caused by the destruction of forests.
Kuraray Trading sells a wide range of uniforms which have a variety of functions --flame- and soil-resistant, antistatic, quick-drying,photocatalytic odor-elimination,etc --for offices, the transportation industry, hospitals, factories and the like. Support for the MOTTAINAI campaign takes the form of attaching the sponsor emblem to uniform merchandise and donating part of the profits from these sales to the Green Belt Movement.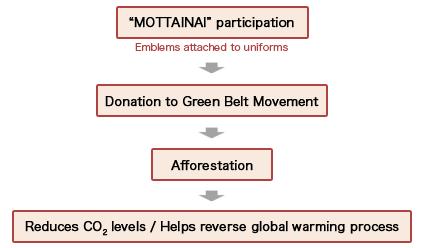 Kuraray Trading markets a variety of eco-friendly products--such as resins made from recycled PET bottles, KURALON used as an asbestos substitute in fiber reinforced cement, non-halogen type solvent FINETOP, polyamide resin GENESTAR that can be used as corresponding material for lead-free solder and EVAL film for vacuum insulation panels and implements other environmentally aware programs such as reducing the amount of paper used in its offices, conducting green procurement and thoroughly separating waste materials. Furthermore, Kuraray Trading's sales and back-office sections in Osaka and Tokyo were awarded the internationally recognized ISO 14001 certification in December 2005. The environmental awareness of each and every Kuraray Trading employee will be maintained and improved on an ongoing basis and the organization as a whole will tackle environmental issues in a proactive manner through the promotion of uniform merchandise recycling and other initiatives.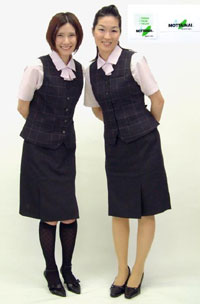 Kuraray Trading Co., Ltd.
Established
October 1961
Capital
¥2,200 million (Kuraray Co., Ltd. 100% as of March 31, 2006)
No. of employees
322 (as of March 31, 2006)
Net sales
¥121,700 million
Business activities
Import, export, manufacture and sales of textile materials and products, chemicals and chemical products, etc.
http://www.kuraray-trading.co.jp/(Japanese only)
Reference
"MOTTAINAI" Developed as World's First Environmental Brand for Recycling-Based Society
ITOCHU Corporation (ITOCHU) decided to develop MOTTAINAI as the world's first environmental brand for a recycling-based society in 2005, when it supported the MOTTAINAI Campaign (with a base office at Mainichi Newspapers, Chiyoda-ku, Tokyo) proposed by Kenya's vice-minister for the environment, Wangari Maathai, who had won the Nobel Peace Prize for her achievements in leading afforestation projects.
The "MOTTAINAI" Campaign got its start when Maathai, highly impressed by the Japanese expression "mottainai" during a visit to Tokyo in February 2005, proposed that it be used as the keyword for environmental conservation throughout the world. The movement is based on the "3 R's"--reduce, reuse and recycle. In other words, reduce waste, reuse limited resources efficiently and recycle resources to ensure sustainability and create a recycling-based society.
With the MOTTAINAI Campaign expected to be conducted on a global scale, ITOCHU is using its vast expertise in commercializing various brands and the licensing business, working together with the MOTTAINAI base office to commercialize products incorporating the "3R's" precepts: made according to eco-friendly standards, reusable and made from recyclable materials. ITOCHU is also promoting the campaign from a unique viewpoint through its contents business (music distribution, film and product commercialization). Space Shower Networks Inc. is tasked with conducting proactive campaign promotion in the music industry.
Additionally, ITOCHU assists other companies that support the aims of the MOTTAINAI Campaign in their product development and campaigns. Part of the proceeds from sales of products based on the MOTTAINAI lifestyle idea is donated to the Green Belt Movement founded by Maathai. This provides a good opportunity for companies to develop their businesses and at the same time contribute to the environment through commercial activities.
The target after three years is to have 50 companies either holding licenses or supporting the MOTTAINAI Campaign. Through these endeavors, ITOCHU aims to offer proposals to consumers that embody the MOTTAINAI lifestyle.
Wangari Maathai (Kenya's Vice-Minister for the Environment, Professor of Biology)

Born in 1940, Maathai wanted to become a biologist so studied in the United States, gained her master's degree from the University of Pittsburgh and returned to Kenya, where in 1971 she became the first woman born in East Africa to earn a Ph.D. from the University of Nairobi. She established the voluntary NGO known as the Green Belt Movement and started afforestation activities in 1977.

Not just another nature conservation movement, Green Belt used the planting of trees to increase social awareness and participation among the poor as well as to advance the democratization of Kenyan society, including the empowerment of women within it. This approach was sure to fall foul of then President Arap Moi's dictatorship, and Maathai was arrested on numerous occasions.

Kenya now has a total of around 1,500 seedbeds and around 80,000 participants, the majority of whom are women, who have planted 30 million trees. As the saying goes, "plantations are a symbol of Kenyan democracy."

In 2002, Maathai was elected to the Kenyan Parliament with the overwhelming support of 98% of the electorate and has been Vice-Minister for the Environment since 2003. She was awarded the Nobel Peace Prize in 2004, becoming the first African woman in history and the first in the environmental field to receive the prize. During an interview with the editor-in-chief of the Mainichi Shimbun when on a visit to Japan in February 2005, she came across the expression mottainai and is appealing for it to be included as part of the international environmental protection lexicon.

MOTTAINAI Campaign

An environmental campaign proposed by Wangari Maathai and supported among others by Mainichi Newspapers, MOTTAINAI brings new meaning to a word that has been used in Japan since time immemorial. By its universal usage, it is hoped to bring a recycling-based, sustainable society to fruition and make lifestyles that have zero impact on the environment more commonplace.

Specifically, the campaign calls for the so-called 3R's of reducing waste, reusing limited resources efficiently and recycling resources to limit greenhouse gas emissions and prevent damage to the environment.

As a word with roots in Buddhist teachings, mottainai has meanings connected with showing respect to all manner of things and even has resonance in the fields of showing respect for human rights and peace, in government, corporations and civil society as a whole. The word is evolving the movement as a national and global campaign partnership between all stakeholders.

ITOCHU Corporation's Environmental Measures

ITOCHU Corporation established a Global Environment Office in July 1990 and formulated ITOCHU's Environmental Policy tailored to ISO 14001 standard requirements in October 1997.

This policy clearly states that ITOCHU, as a member of the international community, is positioning issues of environmental concern as one of the most important management policies. ITOCHU is committed to economic development in harmony with the natural environment, under the corporate ideal of being "Committed to the Global Good." We are actively promoting involvement by addressing environmental issues based on ITOCHU's Corporate Code of Conduct, in order to protect our precious earth and make a lasting contribution to the global community.

ITOCHU is making full-fledged efforts to abide by the philosophy in its business activities.