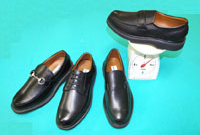 Andre Valentino
Kuraray Co., Ltd. (Headquarters: Tokyo; President: Yasuaki Wakui) and men's shoe manufacturer Mikuni Seika Co., Ltd. (Headquarters: Kobe; President: Chuukoku Kanetani) have jointly developed a comfort business shoe using Kuraray's next-generation man-made leather PARCASSIO. As a result, the companies announce that an ultra lightweight business shoe, each weighing only 260 grams, will go on sale on April 28, 2006, under the "Andre Valentino" brand.
Until now Mikuni has been manufacturing and selling shoes made from natural leather. Its range of light and easy-to wear shoes has been well received. Turning its attention to our high-performance material PARCASSIO, which resembles natural leather extremely closely in appearance, it has achieved greater lightness and succeeded in producing an ultralightweight business shoe weighing only 260 grams.
Similar types of business shoe would typically weigh about 400 - 500 grams, although Mikuni's own lightweight range weighs approximately 300 grams. The new "Andre Valentino" range achieves a further 13% weight reduction. There is a developing trend towards appropriate and easy-to-wear business shoes in the target market of active professional men from their mid-thirties to fifties.
PARCASSIO, which has been on sale for three years, uses a special polyurethane skin that improves air and moisture permeability. In addition, it can achieve the look and feel of natural leather because the finishing and processing techniques of natural leather are used. Being lighter than natural leather but with a similar appearance, and combining greater suppleness and softness, high-surface flexibility and abrasion resistance, PARCASSIO is the next-generation man-made leather most suited to shoes. PARCASSIO has also been used in other footwear types, such as travel and walking shoes, ladies pumps, sports and golf shoes.
1. Characteristics of the new product.
(1)

Even lighter than Mikuni's already lightweight range of men's shoes
(from 300g to 260g per shoe, 13% lighter than Mikuni's lightest shoe)

(2)

Has same sensitivity as natural leather, the same feel and creases in the same stylish way when walking.

(3)

Excellent surface properties (flexibility and abrasion resistance)

(4)

Air and moisture permeable, flexible

(5)

Easy-care characteristics: rain, mud and other stains can be just wiped away

(6)

The inside of the shoe uses Kuraray's SERDIA lining , which has photo-catalytic odor-elimination properties to keep the shoe fresh.
2. Overview of the new product
(1)

Brand

Andre Valentino, a Paris-based design company

(2)

Line-up

4 types
oxford, bit loafer, penny-loafer and plain loafer

(3)

Sizes

24.0cm through 27.0cm including (7 sizes including 0.5 cm measurements)

(4)

Colors

black, brown (2 colors)

(5)

Suggested price

¥8,190 (including consumption tax)

(6)

Sales channel

Major retail shoe chains nationwide

(7)

Sales launch

April 28, 2006
Overview of Mikuni Seika Co., Ltd.
| | |
| --- | --- |
| Headquarters | Max Building 3F., Kagura-cho 2-3-27, Nakata-ku, Kobe |
| Representative Director | Chuukoku Kanetani |
| Capital | ¥10 million. |
| Business activities | Manufacture and sale of men's shoes. |
| Incorporation | 1986 |
| Net sales | ¥700 million (as of Fiscal Year to June 2005) |