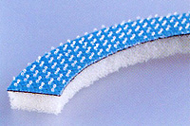 Magnetic curved type
Kuraray Fastening has agreed to technical cooperation with Aplix Inc., a company headquartered in France, for upholstery materials installation techniques for automobile seats using hook and loop fasteners and installation techniques for soundproofing materials for door panels and flat cables inside automobile ceiling material. The company will commence full-scale distribution to automobile and automobile seat manufacturers from January 10, 2006.
This technical cooperation envisions faster technical development and improved technology for automotive interior installation. It enables both companies to build a worldwide supply system in response to the increasing globalization of the automotive industry by establishing standardized specifications for fastening materials. This will allow for cuts in production costs and quicker delivery times.
This technical cooperation includes the following features:
1.

The magnet installation type technique significantly improves workability of installing fastening materials in foamed urethane molds

2.

The hook-shaped fastener enables soundproofing materials to be attached in a one-touch operation, allowing for hooks and door panels to be cast at the same time

3.

Techniques for installation of flat cables inside automobile ceiling material with thin-type hook and loop fasteners
In practice, this process is as follows:
(1)

The magnet installation type comes in two kinds, namely the magnetic curved type and magnetic straight-line installation rail type. Both types can be easily set on metal rails via magnetic force. Compared to the existing installation rail type, setting time is reduced by more than 30%. In addition, this method introduces additional benefits compared to traditional hog ring assembly methods:

1)

Lower costs due to more efficient seat assembly operations

2)

Reduction in cost and weight with thinner pad cushions

3)

Seat assembly uses lighter components

(2)

Soundproofing materials are currently attached to door panels using ultrasonic waves and adhesive. With a view to improving the working environment and rationalizing fitting operations, Kuraray Fastening offers technologies to cast hook-shaped fastener and door panels at the same time, and to attach non-woven fabric soundproofing materials to door panels with its engagement function.

(3)

Flat cables in ceiling material are currently attached with hot melt adhesive and adhesive tape. However, the heat generated from hot melt guns creates such problems as burning and odor. The new technology enables thin loops laminated on the back of ceiling material to fit on hook-tape laminated flat cables in a one-touch operation. This leads to a total cost reduction of ceiling material, as well as shortened working hours.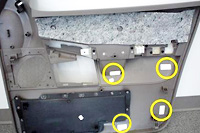 Door Panel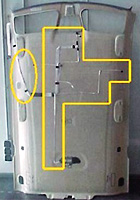 Ceiling materials
Kuraray Fastening Co., Ltd.: Company Overview
1. Headquarters
Shin-Hankyu Bldg. 9F, 1-12-39 Umeda, Kita-ku, Osaka 530-8611
2. President
Mitsuhiko Takaoka
3. Capitalization
¥100 million
4. Number of Employees
120
5. Business
Manufacturing, development and sale of

MAGIC TAPE

fabric hook and loop fastening material, extrusion molded hook faster, and other hook and loop fastener-related products.
Aplix Inc. : Company Overview
| | |
| --- | --- |
| 1. Headquarters | France (Paris) |
| 2. President | Mr. J-P Billarant |
| 3. Capitalization | ¥310 million |
| 4. Number of Employees | 800 |
| 5. Business | Manufacturing and sale of hook and loop fastener materials |