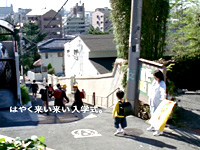 New CLARINO School Bag Commercial
Kuraray has produced a new television commercial for its man-made leather CLARINO school bag. The commercial will be broadcast nationwide from December 26, 2005 until February 11, 2006 in Japan.
The commercial paints a charming picture of a boy looking forward to his school's entrance ceremony, for which he is being bought a CLARINO school bag. He is so overjoyed that he never wants to let go of it. The child's "very happy" feeling when he has the new CLARINO school bag before his eyes is plainly communicated and in a way that everybody can understand.
This commercial evokes nostalgic memories for the first year new schoolboy's parents who remember the same feelings.
The CLARINO school bag's strength, lightness and ease of care characteristics are highly praised, and its domestic market share is over 70%. With this television commercial, the Company will support marketing promotion and distribution activities in the high-demand season from January until mid-February.
Overview

Ad Title

CLARINO

School Bag: "I won't let go of it" (15 seconds)
Broadcasting schedule

(1)

Period

December 26 (Monday) – February 11 (Saturday)

(2)

Channels

spot broadcast in Tokyo, Osaka, Nagoya, Fukuoka, Hokkaido etc., to a total of 32 areas nationwide, approximately 2,200 spots