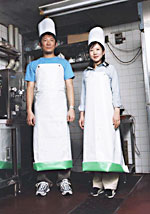 New Antibacterial Work Apron
Kuraray Plastics Co., Ltd. (Headquarters: Osaka; President:: Katsuhiko Kishi) recently developed a new work apron that features a hem folded to the outside to effectively drain water droplets to both sides, and will launch nationwide sales from December 12, 2005. (We are now applying for a design patent.)
The standard dress for workers in jobs requiring frequent contact with water has conventionally been a rubber or plastic apron that goes up to the chest and rubber boots. Recently, however, young workers are shunning rubber boots for making their feet too hot and sweaty, lowering mobility and being unstylish, and an increasing number of them wear sneakers without caring that their feet get wet.
This prompted us to develop a water-resistant apron with a hem turned approximately 50mm to the outside and held in place with hooks in four locations, with the aim of keeping even sneakers dry. The center of the outwardly folded hem is high, and an approximately 10mm incline extends outward from the center to the left and right, effectively channeling off to both sides drops of water that roll down from above. Kuraray Plastics decided to release the product on the market after it was highly acclaimed by cleaning staff in the company cafeteria following trial use there.
The apron is manufactured using layered sheets that sandwich polyester fabric between polyvinyl chloride (commonly known as tarpaulin, often used in tents and other products), and has undergone antibacterial treating. The apron comes in two types: a full-length type that goes up to the chest, and a fit type that attaches simply and snugly around the waist. Customers can choose from five color patterns (such as a white front and green back), and small, medium or large sizes. Suggested prices are ¥1,900-2,100 (including tax) for a full-length type and ¥2,900-3,100 (including tax) for a fit type, and the aprons will be marketed at nationwide home centers, work clothes shops, uniform shops for all industries, food-handling companies, and through mail order companies.