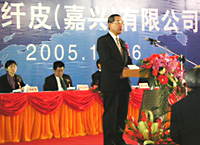 Dedication Ceremony Man-Made Leather Joint Venture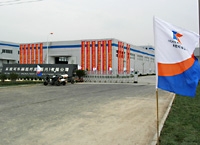 Hexin Kuraray Micro Fiber Leather (Jianxing) Co., Ltd.
The company, Hexin Kuraray Micro Fiber Leather (Jiaxing) Co. Ltd., (hereafter as Hexin Kuraray), which was established in May 2004 with Zhejiang Hexin Industry Co.Ltd., (hereafter as Hexin) held a dedication ceremony on November 16, 2005 on the completion of the production facilities for man-made leather.
Kuraray's microfiber man-made leather CLARINO is used throughout the world in shoes, bags, balls, gloves, clothing, and interior furnishings, and holds the top share of the world market for man-made leathers. Kuraray, having long watched the scope and promise of the Chinese market, commenced full-scale development of its operations in the Chinese market with China's 2001 admission to the WTO. At this time Kuraray established a cooperative relationship with Hexin, China's largest manufacturer of synthetic leathers, for marketing to sports shoes makers. Hexin Kuraray is positioned to meet the growing demand for China's domestic needs, and to strengthen its footing for worldwide expansion.
The plant's annual production capacity is four million square meters, but with an eye toward expansion as China's domestic demand rises, as well as the development of worldwide sales, the new joint venture's manufacturing systems will be linked with those of Kuraray's Okayama Plant.