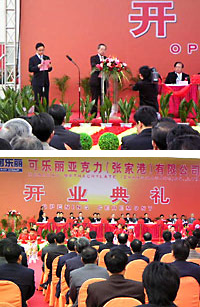 Dedication Ceremony
A dedication ceremony was held on November 15th for the start of operations at the manufacturing plant of KURARAY METHACRYLATE (ZHANG JIA GANG) CO., LTD. (located in Zhangjiagang City, Jiangsu Province; President: Yasuo Hattori), which was established in April 2004 to expand methacrylic business in China.
Methacrylic resin has some of the best transparency and weather resistance properties of any plastic, and so it is widely used in familiar products such as electric signboards, lighting fixtures, and automobile taillight covers. In recent years, demand for LCD light guide plates and other optics-related products employing the optical properties of methacrylic resin has been expanding.
China is continuing to experience a construction rush centering on coastal areas, and the related demand for methacrylic resin sheets is increasing at an annual rate of over 10%. At the same time, the number of high-grade condominiums and hotels is increasing, so the expansion of demand for methacrylic resin sheets for use in bathtubs and other furnishings is continuing.
To be certain of meeting the continuing growth in demand from China, Kuraray intends to establish a bipolar production system in close coordination with its domestic manufacturing facility at Niigata.
Outline of KURARAY METHACRYLATE
| | |
| --- | --- |
| Company name | KURARAY METHACRYLATE (ZHANG JIA GANG) CO., LTD. |
| Location | Jiangsu Yangtze River International Chemical Industrial Park, Zhangjiagang City, Jiangsu Province |
| Chairman | Toshihiro Tomii |
| President | Yasuo Hattori |
| Site area | approximately 50,000 m² |
| Factory floor space | approximately 4,000 m² |
| Production capacity | 3,000 tons per year (cast process) |
| Capital investment | approximately ¥500 million |
| Capital | US$9.6 million (approximately 1.13 billion yen) |
| Equity ratio | Kuraray 80%, Kuraray Trading 20% |
| Employees | 82 |