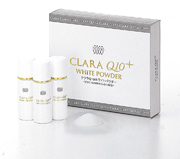 Kuraray Family Products Co., Ltd. (Headquarters: Osaka; President: Yoshikazu Takamoto ), which markets a lineup of health foods and cosmetics, has just announced the development of Clara Q10 White Powder. The new product includes Coenzyme Q10 and a high concentration of vitamin C, and will go on sale on June 15, 2005 in Japan.
Coenzyme Q10, also called ubiquinone, is found in every cell in the human body, and is needed by cells to produce energy. Coenzyme Q10 is also contained in our natural skin oils. It is first of all an antioxidant that guards skin against ultraviolet rays and other oxidizing stresses. Vitamin C is widely known to preserve the beauty of a person? skin, but displays inadequate stability in solution. When stabilized as ascorbic acid phosphate sodium, however, vitamin C can be dissolved in skin toner in large amounts, providing the skin a rich supply of vitamin C. The new product contains a high 10% concentration of ascorbic acid phosphate sodium.
Vitamin C has a long shelf life if kept away from oxygen, because a special manufacturing technology has been developed for packaging liquids containing active substances such as ascorbic acid phosphate sodium in a microporous membrane. When micro-powders produced using this method are lightly pressed with a fingertip, fresh skin toner containing vitamin C is released. The newly developed Clara Q10 White Powder is a micro-powder skin toner containing coenzyme Q10.
Product information
1.

Product name

Clara Q10

White Powder

2.

Package size

15 grams (5g × 3 bottles)

3.

Use

Wash face and apply skin toner, then pour

Clara Q10

White Powder into the palm of the hand. Press it lightly with the finger to liquefy, and then apply as desired to blemishes, dull areas, pores, or acne scars. Continue with usual skin care regimen.

4.

Principal ingredients

ascorbic acid phosphate sodium(a derivative of vitamin C), coenzyme Q10

5.

Retail price

¥6,825 (including tax)

6.

Sales routes

Membership marketing and catalog sales