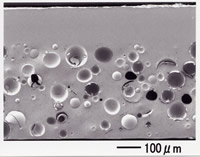 Cross section: Heat-blocking film
using ceramic balloons
Kuraray Co., Ltd. (Headquarters: Tokyo; President: Yasuaki Wakui) has announced that its subsidiary, Kuraray Plastics Co., Ltd. (Headquarters: Osaka; President: Katsuhiko Kishi), has used a special heat-blocking film supplied by Achilles Corporation (Headquarters: Tokyo; President: Shizuya Yamanaka) to develop a tent and awning material with superior heat-blocking properties. The new material, dubbed VANCOOL, was developed through a lamination process and will go on sale nationwide on April 20.
VANCOOL has a special four-layer structure that includes a heat-blocking layer that contains minute, ceramic balloons and white pigment, which allows it to efficiently reflect radiant heat from sunlight and other sources. It also has a colored PVC layer for decorative purposes. This material efficiently blocks the near-infrared rays that are the cause of radiant heat,greatly reducing the amount of penetrating heat and keeping the protected area cooler than conventional materials can.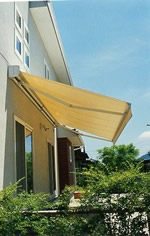 VANCOOL heat-blocking tent and awning material.
In July 2004 Kuraray conducted tests of this material in sunlight, comparing it to a conventional awning material. Tent-like awnings of each were stretched over pipe frames, and temperatures inside and outside were measured at intervals.
The tests were conducted at the height of summer, with temperatures outdoors exceeding 35℃. Temperatures under the conventional awning consistently exceeded 40℃, while temperatures inside the VANCOOL-clad awning remained up to 7℃ cooler.
Measured temperatures on July 7, 2004
Measured temperatures on July 8, 2004
09:00
12:00
15:00
09:00
12:00
15:00
Outside temperature (℃)
35
34
37
33
39
38
Temperatures
inside/under awnings

*(℃)

Conventional material
44
43
48
41
49
47

VANCOOL

40
40
43
39
42
42
Difference
4
3
5
2
7
5
*

Thermometers were attached to black ,foamed polystyrene forms under the awnings at 1.2 meters above ground level, the approximate height of the head of a person seated in a chair.
Kuraray foresees a number of uses for this material. It can contribute to improved working and living environments, reduce the burden on air conditioning equipment, and prevent the formation of heat islands. Specific applications will include decorative store awnings, awnings for home and family use, large tents for events, canvas truck covers, and factory sheds. Initial market offerings will be material for decorative awnings and large tents for events.
Product name:
VANCOOL
Characteristics
(1)

Blocks near-infrared rays that cause heat, giving it superior heat-blocking properties.

(2)

Reduces energy consumption and costs.

(3)

Has the same strength, durability, and other properties as conventional awning materials.
Composition
VANCOOL has a colored polyvinyl chloride outer layer, a heat-block layer (containing ceramic alloons and white pigment), a polyester base-textile layer, and a polyvinyl chloride inner layer.
(Depending on the application, a stain-resistant surface layer may be added.)
Applications
(1)

Decorative awnings

Thickness
0.6mm
Width
94cm
Weight
640g/m²
Price
¥9,000/m (¥9,450/m, including tax)
Distribution route
Manufacturers of tents and awnings
Sales targets
First year: ¥20 million,
After three years: ¥200 million

(2)

Tents for events

Thickness
0.6mm
Width
93cm and 104cm
Weight
630g/m²
Price
93cm width: ¥8,000/m (¥8,400/m, including tax)
104cm width: ¥10,000/m (¥10,500/m, including tax)
Distribution route
Manufacturers of tents, and event promoters
Sales targets
First year: ¥30 million
After three years: ¥300 million
Achilles Corporation
| | |
| --- | --- |
| Headquarters | 22 Daikyo-cho, Shinjuku-ku, Tokyo |
| President | Shizuya Yamanaka |
| Capital | ¥14,640 million |
| Number of employees | 1,931 (As of March 31, 2004) |
| Business | With plastic processing as its core technology, manufacturing and sales of functional films, synthetic leathers, shoes, and products related to residential and civil engineering construction, automotive, electronics parts, and welfare. |
Kuraray Plastics Co., Ltd.
Headquarters
1-12-39 Umeda, Kita-ku, Osaka (Shin Hankyu Building 9F)
President
Katsuhiko Kishi
Capital
¥180 million
Number of employees
200
Business
Manufacturing, processing, and sales of rubber and plastic hoses and molded products, water and sewage pipes, laminated products, and

SEPTON

compounds and molded materials.