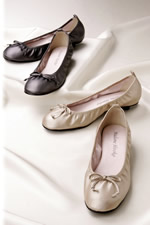 Bikei Shoes, a joint effort of fashion producer Hiroko Kaneshima and Kuraray Co., Ltd., will be included in the April / May 2005 edition of the JAL Group's in-flight shopping magazine, JALSHOP. JALSHOP is produced by JALUX Inc. (The name "Bikei" is derived from the Japanese characters for "beautiful" and for "light.")
Bikei Shoes are easy to slip on and off, which makes them ideal for wearing during air travel and as hotel wear, and their sophisticated design is stylish enough for restaurant outings. They fit easily into a corner of a travel bag to save luggage space, and the inside of the shoes is treated with a deodorant to ensure that they are always pleasantly fresh and welcoming to feet.
Bikei Shoes were born of a collaboration between Kuraray and fashion producer Hiroko Kaneshima, known as "Madame Hiroko." Kuraray, as the leading manufacturer of man-made leather, brought new technologies to this effort. The development concept called for a shoe that was easy to carry, lightweight, soft, and comfortable for airliner and travel wear. For the upper shoe, Kuraray's lightweight, soft, man-made leather SOFRINA UL was chosen, and for the inner sole and lining, SERDIA man-made leather was selected for its photocatalytic odor-elimination property. SOFRINA UL has the softness and pliability of natural sheepskin, yet holds its shape, and SERDIA undergoes an odor-eliminating photocatalytic reaction when exposed to sunlight or fluorescent lamps.
*

The effect of

SERDIA

's odor-elimination properties

SERDIA

chemically adsorbs ammonia and other odor-causing substances in human perspiration. When it is exposed to sunlight or fluorescent lamps, a photocatalytic reaction breaks down those substances, eliminating unpleasant odors.
When housewife Hiroko Kaneshima was 45, she set out to become a makeup artist and fashion coordinator, and became known for pioneering fashion courses at high-fashion boutiques, cosmetics companies, and business seminars. She pursues both ease of use and functionality from the standpoint of the user, and sophistication in design. The new Bikei Shoes combine a soft, enveloping fit and feel with sophisticated design.