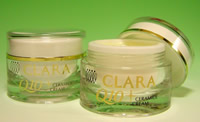 Kuraray Family Products Co., Ltd. (Headquarters: Osaka; President: Yoshikazu Takamoto), which markets a range of health foods and cosmetics, began marketing CLARA Q10 ceramide cream on April 1, 2005. The new product contains ceramide and squalane to keep the skin moist, as well as oil-soluble vitamin C and the nutrient coenzyme Q10, which has been recently featured in the news as a beauty aid.
Coenzyme Q10, also known as ubiquinone, is found in every cell of the body, including dermal cells. It is essential to the biochemical reactions that create the energy we need in our daily life. Coenzyme Q10 supplements were originally developed in Japan as a medication for coronary ailments. In later years, coenzyme Q10 became a very popular nutritional supplement in America, first among athletes and then among a broad range of health-conscious individuals. Last year it was approved in Japan for use in cosmetics.
Found in human dermal cells, Coenzyme Q10 is foremost an antioxidant that protects the body and guards the skin against oxidation stress from ultraviolet rays and other causes. Ceramide keeps the skin moist. Squalane is extracted from natural shark-liver oil, and also serves to protect the skin from drying. CLARA Q10 ceramide cream, therefore, is ideal for those who want to preserve the youth and beauty of their skin.
The New Product
1.

Product name

CLARA

Q10 ceramide cream

2.

Package size

30 grams

3.

Uses

After washing the face, rehydrate the face using toner or lotion, then moisturize using a serum essence or other moisturizer, and finally use

CLARA

Q10 ceramide cream as an oil moisturizer

4.

Major ingredients

Coenzyme Q10, ceramide, squalane, vitamin E, vitamin A derivative, oil-soluble vitamin C derivative, licorice flavonoids, soy lecithin

5.

Retail price

¥5,250, including tax