Kuraray Co., Ltd. and Kuraray Trading Co., Ltd. have developed OLFE,a new type of raised fabric that uses SOPHISTA MC, a microfiber combining polyester and Kuraray's innovative polymer EVOH resin.
The two firms are vigorously marketing the material for use in ladies' and gentlemen's clothing, as well as bags, shoes, upholstery, and curtains for 2005 fall and winter season.

The Kuraray Group designated its microfiber series as an important strategic material for in the 2002 fall and winter seasons, and has been pressing forward with the development and marketing of textiles. The first product to emerge from this effort was WRAMP, a high-density textile made from a blend of polyester and nylon fibers. WRAMP was followed by ELMOZA, a nuback textile woven from islands-in-a-sea type conjugated filament made from polyester and the water-soluble resin EXCEVAL. These products have been well received in the market. The third product is the subject of this article, OLFE. It is expected that the success of these products will result in widespread use of microfiber textiles.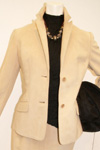 OLFE
The microfiber materials presently on the market are:
(1)

Thin, peach skin materials such as WRAMP, which have a slippery feel due to their nylon content.

(2)

High-end, suede-texture products made from islands-in-a-sea type fibers such as

ELMOZA

.

(3)

Pile fabrics made with directly drawing, high-count threads.
OLFE is significantly different from these microfiber materials. The use of ethylene vinyl alcohol polymer resin gives it a velvety feel, as opposed to the fuzzy feel of earlier products. In addition, the use of high-dimension processing technology results in a compact product with a tightly woven feel. It is a synthetic textile, but its softness, lightness and warmth to the touch inspired us to coin the phrase, "angel skin touch" to describe it.
The Kuraray Group will continue to press forward with the development of highly original and distinctive products such as OLFE, employing the proprietary vinyl acetate polymer technology it has amassed over long years of experience in the field. These products will be crucial in the Group's efforts to expand its presence and business in world markets.
1.Material
A pile fabric made using a blend of separable microfiber SOPHISTA and SOPHISTA MC; pile products made from this textile.
*

SOPHISTA MC

raw fiber specifications:

84dtx/24f, 110dtx/24f
Polyester 65%,

SOPHISTA

35%.
2.Characteristics
Soft, "angel skin touch" unlike earlier pile fabrics
Luxurious, velvety feel
Lightweight, yet bulky and warm
3.Applications
Clothing

Ladies' jackets, skirts, and other heavy clothing
Gentlemen's jackets, trousers, and other apparel

Accessories and furnishings

Bags, shoes, upholstery, curtains, wiping cloths
4.Prices
¥1,800 – 2,200/meter (exclusive of consumption tax)
5.Sales targets
| | |
| --- | --- |
| Fiscal 2005 | 500,000 meters |
| Domestic ladies' and gentlemen's clothing | 300,000 meters |
| Overseas apparel | 100,000 meters |
| Other materials and secondary materials | 100,000 meter |
(Reference)

| | |
| --- | --- |
| Sales during the 2004 fall and winter seasons | 100,000 meters |
(Trial marketing to the domestic ladies' clothing industry)