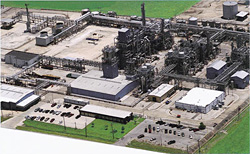 In response to the worldwide expansion of demand for ethylene vinyl alcohol polymer resin (Kuraray's trade name is EVAL), Kuraray has decided to expand production capacity at Eval Company of America by 24,000 tons per year. Production capacity following the expansion, which is scheduled for completion in March 2006 at a cost of US$150 million, will be 47,000 tons per year.
Kuraray became first in the world to develop and commercialize the high-performance resin EVAL in 1972, which has the highest gas impermeability of any plastic (approximately 10,000 times that of ordinary polyethylene). This superior gas barrier property makes EVAL highly trusted as a preservative food-packaging material, and the expansion of this business has been centered in the food-packaging field. In recent years it has been increasingly used to manufacture plastic fuel tanks for automobiles, as it is lightweight, easy to work with, and prevents the leakage of volatilized fuels. EVAL is also used to make pipes for floor heating systems and in other residential and appliance-related applications. Demand for this resin, centered in Japan, the U. S., and Europe, is rising at a rate of 10% or more per year. Demand growth is also predicted for Asia, where lifestyles and standards of living are on the rise.
At present, Kuraray's tripolar manufacturing organization, composed of the Okayama Plant, Eval Company of America, and Eval Europe N. V. (Belgium), has a combined capacity of 45,000 tons per year, but the expansion of facilities at Eval Europe N. V. that is now in progress, combined with the planned expansion at Eval Company of America, will bring combined capacity to 81,000 tons per year in fiscal 2006.
EVAL

production capacity
| | Present | Planned increase | Projected completion | Total after expansion |
| --- | --- | --- | --- | --- |
| Okayama Plant | 10 | - | | 10 |
| Eval Company of America | 23 | +24 | March 2006 | 47 |
| Eval Europe N. V. | 12 | +12 | September, 2004 | 24 |
| Totals | 45 | +36 | | 81 |
The EVAL business is designated a "core business" in Kuraray's "G-21" medium-term business plan, now in its fourth year, for the uniqueness and competitiveness it displays worldwide. Kuraray has endeavored to expand these operations, and, through exacting responses to market needs, the development of new products, and the development of new markets, the Company is working to consolidate its position as a global leader in the gas-barrier related business domain.
Capital Investment at Eval Company of America
Location
Pasadena, Texas, the U. S.
Production capacity

Present, 23,000 tons
Increase in annual production capacity: +24,000 tons
Total annual production capacity: 47,000 tons
(Construction to begin in September 2004 and be completed on March 4, 2006)

Total capital investment
US$150 million
(For reference)
1.

Volume of Demand for Ethylene Vinyl Alcohol Polymer Resin
(Kuraray figures)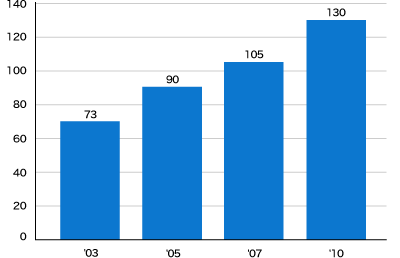 Total Demand(Ktons)
2.

EVAL

's principal characteristics
High gas impermeability (approximately 10,000 times that of ordinary polyethylene)
Excellent resistance to organic solvents
Because it contains no chlorine, there is no danger of emission of dioxins or other toxic substances
3.

Percentage of

EVAL

Used in Primary Applications

Food packaging: 70%
(Mayonnaise, ketchup, tea leaves, fruit and vegetable juices, fruit, raw meat, processed meat)

Other than food packaging: 30%
(Gasoline tanks, pipes for floor heating systems, vacuum insulation panels for refrigerators, etc.)
4.

About Eval Company of America
| | |
| --- | --- |
| (1) Company name | Eval Company of America |
| (2) Headquarters | Texas, the U. S. |
| (3) Production capacity | 23,000 tons per year |
| (4) President | Nobuya Tomita |
| (5) Capital | US$4,150,000 |