Kuraray Co., Ltd. is now manufacturing and marketing WRAMP microfiber wiping cloths, made of a 65% polyester, 35% nylon conjugated filament in 11 lateral layers.
The new, disposable Puriri Wiping Cloths were jointly developed with Lucky Corporation Co., Ltd. (headquartered in Osaka), by developing non-woven fabric made from WRAMP microfiber. On 30 July, Lucky Corporation Co., Ltd. will begin marketing this product through drug stores and large variety stores.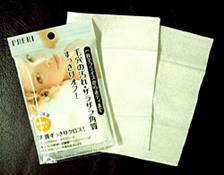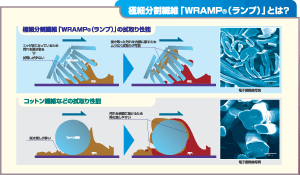 WRAMP filament is as between 1/150th and 1/2000th thick as the diameter of a human hair, and seen in cross section, its sharp edges have a blade-like shape. These blade-like edges are able to efficiently remove dirt from wiped surfaces and trap it in the spaces between the cloth's filaments, which means that the dirt once wiped rarely gets transferred back onto the cleaned surface. These cloths wipe much more efficiently than cloths made of fibers that are round in cross section. These characteristics will make these cloths suitable for industrial applications such as polishing precision equipment, as well as for household applications such as cleaning eyeglasses and polishing glass.
Lucky Corporation Co., Ltd. developed this fluffy , soft, pliable, thick non-woven fabric into commercial products. In the area of skin care, Lucky developed facial cleansing cloths that remove dead skin cells, and can also be used on the elbows, knees, ankles, or anywhere else where a bit of care would be welcome. Because they are disposable they are hygienic, and they are very handy and useful on business and vacation trips.
About this product
1.

Product name

Puriri Wiping Cloths

2.

Dimensions

20×15cm, sold in packages of 10

3.

Suggested retail price

¥400, consumption tax excluded

4.

Target market

Drug stores and large variety stores nationwide, etc.

5.

Properties and characteristics

(1)

Because they are thick sheets of microfiber non-woven fabric, they are soft and fluffy to the skin.

(2)

The edges of the microfibers scrub away old skin, while their blade-like shape prevents detritus from returning to the skin.

(3)

After use on the face the wiping cloths can be used to remove dead skin cells elsewhere on the body.

(4)

They are disposable, and therefore hygienic.

6.

Sales targets

First year: ¥40 million
After three years: ¥100 million
About Lucky Corporation Co.,Ltd.
Headquarters
Nishitakayasucho 1-39,Yao city, Osaka pref.
President
Toshiyuki Furukawa
Paid-in Capital
¥425 million
Commenced operations
March, 1887
Incorporated
October, 1950
Fields of business

(1)

Manufacturing and sales of cosmetics-related products and personal accessories.

(2)

Manufacturing and sales of supplies for handicrafts and other hobbies.

(3)

Manufacturing and sales of automotive deodorizers and air fresheners, and moist towlettes.

(4)

Sales of cosmetics and cosmetic applicators.

Sales
Approximately ¥2 billion (in fiscal 2003)
Number of employees
71