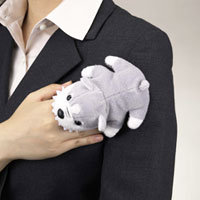 Kuraray Living Co., Ltd. (Headquarters: Osaka; President: Kiyoshi Kitagawa) has launched its Oteire Animal series of three clothes brushes designed as stuffed toy dogs in three different breeds. (Suggested retail price: ¥1,000, exclusive of consumption tax). The Oteire Animal brushes will go on sale on July 21.
The Oteire Animal brushes feature a short, bias woven brushing pile (Etiquette® brush) on the dog's stomach. Placing two or three fingers in the dog's mouth allows easy brushing of clothing or cloth-upholstered furniture. This is the source of the product name (The Japanese word 'O-te-ire' has a double meaning of grooming and putting hands into). These brushes easily remove dust, lint, and pet hair from clothing or cloth-upholstered furniture. When not in use, it can be hung from its bone-shaped rod by a strip of hook and loop fastener.
Reflecting the current surge in the popularity of pets, small dogs are very popular, especially with young women, and these brushes can be used as appealing room or auto-interior accessories.
About this product
Size
W110×H60×D135mm
(Because they are stuffed toys, slight differences occur)
Weight
Approximately 30g
Products in the line
3 breeds
(Husky (gray), Japanese-Shiba(beige), and Bernese (black))
Price
Suggested retail price: ¥1,000, exclusive of consumption tax
Availability
July 21, 2004
Target market
Department stores, catalog sales, cooperatives, pet shops
Sales targets
¥50 million (in the first year)
For more information on this product, contact:
Kuraray Living Co., Ltd.
Textured Material Sales Department
Mr. Sasaki
Tel: +81-6-6348-9468
Fax: +81-6-6348-9960