Kuraray Living Co., Ltd. (Headquarters: Osaka; President: Kiyoshi Kitagawa) has developed a new mouse pad material using the smooth feel of CLARINO man-made leather to reduce inadequate friction. Suede-finish mouse pads made from this material will be marketed by Elecom Co., Ltd. (Headquarters: Osaka; President: Junji Hada) from the beginning of July. These pads can be used not only with a ball-type mouse, but also with an optical wheel mouse, offering a superior feel and operability not available in previous products.
The newly developed material is made by treating the suede-finish surface of CLARINO man-made leather, produced by Kuraray Co., Ltd., with a special silicone. This reduces the coefficient of friction of previous suede finishes by approximately 30% (tested but not certified), and offers an extremely pleasant feel and quiet operation.
The bottom of the pad has an adhesive sheet to keep it from sliding while in use. The adhesive also allows the pad to be stuck to notebook PCs for handy portability.
New suede finish mouse pad material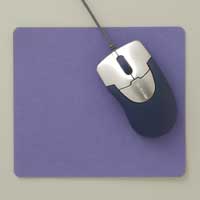 | | |
| --- | --- |
| Model nos | MP-084BU·GY·BK·PU |
| Size | 160mm x 140mm |
| Colors | Navy blue, gray, black, purple |
| Availability | Beginning of July 2004 |
| Price | Recommended retail price: ¥1,400 (consumption tax excluded) |
| Source | Elecom Co., Ltd. |
| Outlets | Electrical appliances volume retailers nationwide |
| Sales target | ¥50 million |