MAGICTAPE Co., Ltd. has ever developed a more eco-friendly manufacturing method for hook and loop fasteners such as its woven MAGIC TAPE and FREE MAGIC brands. This new manufacturing process does not use polyurethane resin to fix the fiber pile, yet offers high quality. A new brand, "New Eco Magic", produced using this new manufacturing method, will go on sale in August. Because it uses no polyurethane resin, the product is light, thin, and has a soft feel, which will suit it for use in apparel and a broad range of other applications. During its initial year of use, the new method will account for approximately 15% of Kuraray's woven hook and loop fastener manufacturing volume. As a response to environmental issues, Kuraray intends to increase it to approximately 30% of total output in subsequent years.
With MAGIC TAPE and other woven hook and loop fasteners, polyurethane resin is used as a coating on the reverse of the tape to maintain holding power and prevent degradation of durability caused by the tearing loose of fibers when the fastener is laundered. Organic solvents are needed to dissolve and adjust the viscosity of the polyurethane resin ordinarily used.
Motivated by concern for the environment, in February 2002 Kuraray switched to a completely solvent-free coating in its MAGIC TAPE manufacturing. Subsequently, further advances allowed Kuraray to develop a new, more eco- friendly manufacturing method for hook and loop fasteners that yields and high quality, and uses no polyurethane resin at all. The use of this new manufacturing method also allows a significant reduction in manufacturing lead-time requirements.
A life cycle assessment (LCA) showed that previous solvent-free coatings reduced environmental impact by approximately 83% in comparison to coatings using organic solvents. The newly developed coating that contains no polyurethane resin achieves a reduction in environmental impact of approximately 90%.
(Kuraray research, LCAs Limited to Manufacturing Processes)
1.Product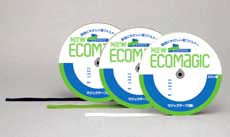 | | |
| --- | --- |
| Product name | New Eco Magic |
| Product type | Hook (A) and loop (B) fastener |
| Material | 100% polyester |
| Colors | 28 (basic colors) |
| Applications | Apparel, shoes, gloves, bags, sundries, car seats, etc. |
2. Characteristics
(1)

Because a back coating that contains no polyurethane resin is used, LCA of the manufacturing processes shows very favorable environmental impact figures.

(2)

Allows significant reduction in manufacturing lead-time requirements in comparison to previous manufacturing processes.

(3)

Because it is lighter, thinner, and softer than previous materials, it will have a broader range of applications.

(4)

Because the material is polyester, it has excellent water resistance, and will therefore be suitable for outdoor sports apparel applications.

(5)

Because it contains no polyurethane resin, even without fire-retardant treatment it meets railway, automotive, and other flame-resistance specifications.

(6)

Because polyurethane resin is not used in the back coating, it has better chemical and weather resistance and there is no fear of yellowing.
*

2 Patents were applied for.