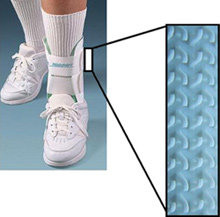 MAGICTAPE Co., Ltd. has licensed APLIX Inc.'s patented injection molded hook (IMH/tentative name)technology for production of molded plastic hook elements for hook and loop fastener tape. The Company will offer licenses to Japanese domestic molded plastic product makers in the middle of June.
MAGICTAPE Corporation's various hook and loop fasteners, principally its fabric MAGIC TAPE and its extrusion molded hook fastener MAGILOCK, are used in a broad spectrum of applications ranging from diapers to car seats and the aerospace field. This new IMH technology will open up a new vista of possibilities in the hook and loop fastener field.
IMH technology allows the integration of hook molds with the basic mold for the plastic product, so that the hooks are cast at the same time as the rest of the product. A number of different resins can be used, including polypropylene, polyethylene, nylon, acetal, and thermoplastic urethane (TPU), and, because the hooks and the base are made from the same material, recycling of the material is possible. This makes environmental protection measures simpler. Further, because this technology involves the incorporation of molds for hooks into previously existing molds, the basic molds need not be replaced and costs are curtailed.
To date, the usual manufacturing process has involved treating the reverse of the fastener element with adhesive and gluing it to the molded plastic base. However, when this method is used, the adhesive can easily fail at high temperatures and high humidity, and may not adhere uniformly to curved surfaces. With IMH technology no adhesive is used, and the fasteners cannot pull away from the molded plastic base. This is a significant improvement in quality, and because adhesive need not be purchased or applied, manufacturing costs are reduced.
After confirming holding strength, resistance to peeling, high quality, and compatibility with loop material,The Company will conduct test manufacturing, then license this technology to Japanese manufacturers who have requested technology for one-piece molded hook elements. The Company will also manufacture and sell original products using this technology.
MAGICTAPE Corporation will add these one-piece injection molded plastic hooks to its lineup of fabric and extrusion molded hook and loop fasteners, as it works to expand its operations as a comprehensive hook and loop fastener manufacturer, and strives to develop new technology.