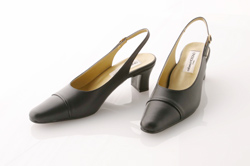 The June/July 2004 issue of JALSHOP, the in-flight catalog published for the JAL Group by JALUX Inc., will offer Bikyaku Pumps, born of joint planning by Hosono Co., Ltd. (Calzeria Hosono) and Kuraray Co., Ltd. In the catalog, the violinist Mariko Senju, who lends her cachet to the advertising, introduces Bikyaku Pumps(Bikyaku is a Japanese word that means "beautiful Legs".) . Approximately 1.2 million copies of each issue of the JALSHOP catalog are printed, and the catalog is placed in the seat pockets of JAL airliners.
Bikyaku Pumps are the result of a collaboration between top man-made leather manufacturer Kuraray and Japan's best-known maker of comfort-conscious shoes, Calzeria Hosono. The outside is made of PARCASSIO, Kuraray's best man-made leather, to which a natural leather finish has been applied. The inside is specially processed man-made leather that reduces the slipping of stockings.
Calzeria Hosono has an established reputation for its fashion sense, as well as for manufacturing stable, comfortable shoes on proprietary "lasts"-forms shaped like human feet from which given shoe sizes are made.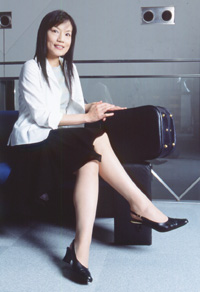 The concept of Bikyaku Pumps-combining a strong fashion sense with functionality in both materials and design-resonates with Violinist Mariko Senju. Mariko Senju flies around the world to concert dates, then spends long hours on her feet, so she needs a shoe that is comfortable yet stylish. Bikyaku Pumps meet these criteria.
About Celebrity Spokesman Mariko Senju
Born in Kanagawa Prefecture, Miss Senju is a graduate of the Keio University School of Literature. One of Japan's best-known violinists, she performs both at home and abroad. Miss Senju has been performing in Calzeria Hosono shoes for many years.
| | |
| --- | --- |
| Magazine | The JAL Group's JALSHOP in-flight catalog |
| Publication | June/July 2004 issue |
| Copies printed | approximately 1.2 million |
Bikyaku Pumps
Material
Outside:

PARCASSIO


Inside:

CLARINO

(specially processed to resist the slipping of stockings)
Soles:Lightweight rubber
Design
One-strap pump
Sizes
21.5cm to 25.5cm (in 0.5cm increments)
Color
Black
Price
¥19, 000 (with consumption tax, ¥19, 950)
*Purchasers of Bikyaku Pumps will receive a free, original shoe case made of Kuraray's soft AMARETTA man-made leather.
PARCASSIO
Luxurious feel similar to natural leather (bends and wrinkles like real leather)
Highly durable finish (flexible, scuff resistant)
Moisture and air permeable
Lightweight (approximately 70% of the weight of natural leather)
Easy to care for
Hosono Co., Ltd.
| | |
| --- | --- |
| President | Masaru Hosono |
| Headquarters | 5-1-2 Minami Aoyama, Minato-ku, Tokyo |
| Tel | 03-3409-9426 |
| Shareholders' equity | ¥10 million (as of March 31, 2004) |
| Principal businesses | Manufacturing and sale of ladies and gentlemen's shoes |
Kuraray Co., Ltd.
| | |
| --- | --- |
| President and Representative Director | Yasuaki Wakui |
| Headquarters | Shin-Hanku Bldg., 1-12-39, Umeda, Kita-ku, Osaka |
| Tel | 06-6348-2111 |
| Shareholders' equity | ¥89.0 billion (as of March 31, 2004) |
| Principal businesses | Manufacturing and sale of synthetic fibers and textiles, synthetic resins, and chemical products |
JALUX Inc.
| | |
| --- | --- |
| President | Zenta Yokoyama |
| Headquarters | JAL Building, 2-4-11 Higashi-Shinagawa, Shinagawa-ku, Tokyo |
| Tel | 03-5460-7220 (Public Affairs Division) |
| Shareholders' equity | ¥2,558.55 million (as of March 31, 2004) |
| Principal businesses | businesses: Aviation-related business, lifestyle-related business, and customer service business |