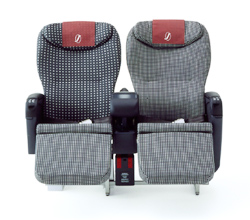 Kuraray's non-woven fabrics have been selected for the headrest covers in JAL's new "Class J" seating on domestic flights, which will be offered from June 1. The number of "Class J" seats will vary according to aircraft type, but will range from 30 to 80.
The rayon used in these headrest covers has been marketed under the trade name KURAFLEX, which is highly regarded for its water absorbency, air permeability, plasticity, texture, feel, and elegant appearance.
Kuraray is working continually to achieve the increased use of KURAFLEX throughout the transportation industry, by offering a service that is one step ahead of its competitors. The Company will in the future continue to expand its nonwoven fabrics business by developing nonwoven fabric products that precisely match the needs of the marketplace, and by working to enhance quality.
"Class J" seating on domestic flights
JAL's "Class J" seating will only be offered on domestic flights, which are shorter than international flights. The new seats, which feature a new reclining system, have been introduced in response to calls from customers for more space at affordable rates.
1.

Commencement of service

June1, 2004
2.

New seats

A new reclining system based on ergonomics is employed for maximum comfort.
3.

Aircraft outfitted with the new seats, and number of seats per aircraft
| | |
| --- | --- |
| B747-400 | 80 seats |
| B777 | 62 seats |
| B767 | 30 seats |
| A300-600R | 34 seats |
4.

Costs

Surcharge of ¥1,000 per ticket
5.

Service

"Class J" seating comes with its own special blanket and headphones. In addition to the standard soft drinks, herb tea is available to enhance comfort. The "Class J" introductory campaign will continued through October 31, 2004, and each customer will receive a complimentary can of JAL's original designer beer, or light refreshments at the Hotel Nikko Tokyo.