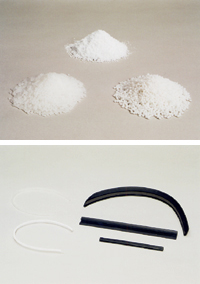 Kuraray Co., Ltd. today announced the development of the SEPTON V Series, hydrogenated styrenic thermoplastic elastomers (hereafter, "hydrogenated styrene elastomers") that will provide compounds with improved heat resistance and oil resistance.
Typical hydrogenated styrenic elastomers are composed of hard blocks (styrene) and soft blocks (ethylene, propylene, butylene, etc.) polymers. As with other plastics, they are easily processed when heated. These elastomers also have the elasticity of rubber, which allows them to be used as a substitute for vulcanized rubber and flexible polyvinyl chloride. The world market for hydrogenated styrene elastomers is approximately 100,000 tons per year, with a growth rate of approximately 10% per year (Kuraray estimate). These resins are easily compounded with polypropylene, process oil and other ingredients, or can be dynamically cross-linked in the compounding process. However, when these resins are cross-linked, only the soft blocks cross-links, which means that the heat and oil resistances are limited. Markets in which these characteristics are important still use vulcanized rubber.
Unlike earlier SEPTON products, the SEPTON V Series contains a crosslinkable hard blocks and makes it reactive. Kuraray has also developed special compounding technology which makes it possible to cross-link the hard blocks as well as the soft blocks during compounding. This provides a compound with higher heat and oil resistance, which makes them suitable for use in markets in which vulcanized rubber is used such as automotive sealing material and construction materials.
Kuraray is scheduled to commence production of the SEPTON V Series in the summer of 2004. The new product will be marketed together with the compounding technology Kuraray has developed. As various compounders combine Kuraray's compounding technology with their own, it can be expected that development will accelerate and the number of applications will increase. For this reason, Kuraray will maintain close ties to these compounders, and hopes to nurture this market in the near future to the scope of 5,000 tons per year. With this new material as a core product, Kuraray will work to expand its elastomer business.
1.

The

SEPTON

V Series
hydrogenated styrenic elastomers with reactive hard blocks display the same plasticity and low-temperature characteristics as previous materials, but with improved heat resistance and oil resistance
2.

Characteristics

Compounds produced using the SEPTON V Series
have low compression sets at high temperatures.
(After 22 hours at 120 C, compression sets are in the 20% range, as opposed to 50% for previous materials.)
have superior long-term durability characteristics.
(After 1,000 hours, the compression set remains in the 30% range)
have better oil resistance.
(After 70 hours in JIS3 oil at 100 C, weight change is approximately 90%, in comparison to approximately 140% for previous materials.)
3.

Applications
automotive weather-stripping
automobile upholstery
rack and pinion boots (to cover rack and pinion steering units)
air-duct covers and hoses
insulation of electric wire
window seals
gasketing
impermeable liners, waterproof materials
protective sheets
4.

Plans and Projections
Commercial production to begin in the summer of 2004.
An annual sales target of 5,000 tons per year has been established for the near future.
Related Information
Hydrogenated styrenic elastomers
(1)

Thermoplastic elastomers (a class of plastics that are heat processed to make them pliable, and which have the elasticity of rubber) include olefins, polyesters, and urethanes, as well as hydrogenated and non-hydrogenated styrene. Each elastomer has its own properties and applications.

(2)

In comparison to other thermoplastic elastomers, hydrogenated styrenic elastomers have

superior rubber-like elasticity.
superior plasticity.
superior low-temperature resistance.
superior chemical resistance.
lower specific gravity

(3)

Principal applications for hydrogenated styrenic elastomers

substitute material for vulcanized rubber and flexible polyvinyl chloride
viscous adhesive
resin modifier

The

SEPTON

V Series will primarily find application for flexible materials in the above areas.
The vulcanized rubber market
Vulcanized rubbers are made from both natural and synthetic rubber, the latter including diene rubber, acrylonitrile-butadiene rubber (NBR), and ethylene-propylene-diene polymers (EPDM). The annual world market for vulcanized rubber is 15 million tons (Source: International Institute of Synthetic Rubber Producers, Inc.).
The improved heat resistance and oil resistance, as well as the processability of the SEPTON V Series will allow them to compete in previously unattainable vulcanized rubber markets, such as automotive and machinery parts and construction materials. It is estimated that the size of this market will be approximately 500,000 tons annually.