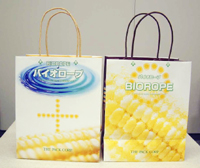 Kuraray Co., Ltd., major packaging manufacturer The Pack Corp. and handle-maker Matsuura Sangyo Co., Ltd. today announced the joint development of PLASTARCH BioRope, a biodegradable polylactic acid fiber made from corn, for use as handles for shopping bags. The Pack will begin the full-scale marketing of environmentally friendly shopping bags with BioRope handles on January 20.These products are made entirely from recyclable materials, and received a high evaluation in pre-marketing research, principally from firms with a high environmental consciousness.
These new shopping bags with BioRope handles embody the environmental stances of the three firms involved: The Pack, which promotes packaging with low impact on nature; Matsuura Sangyo, which is working to make materials eco-friendly; and Kuraray, which is striving to become known as an eco-friendly company.

Progress has already been made in making paper, ink, and other shopping bag materials more environmentally friendly. Petroleum derivatives have been the mainstream material for handles, because they are tough and colorfast. However, there are various issues associated with their disposal and the use of petroleum resources.
The PLASTARCH BioRope used in the new shopping bags is a biodegradable synthetic fiber made of polylactic acid, which is derived from the fermentation of lactic acid from corn and other plants. It takes fifteen kernels of corn to make the handles of one shopping bag. The development of this new PLASTARCH material for handles has resolved a number of issues, and allows shopping bags to be made completely from recyclable materials. In addition, Kuraray's original technology was used to make the new material more colorfast, allowing the sort of multicolor designs that were not possible with previous polylactic acid fibers. Therefore, the new product also contributes to the market's design needs.
Approximately 3000 tons per year of petrochemical fibers are used in shopping bag handles, so the substitution of BioRope for these materials represents a substantial contribution to environmental protection.
The shopping bags with BioRope handles are approved by The Pack Forest Fund, which is operated by The Pack Corp. The Pack Forest Fund is an affiliate of the incorporated nonprofit organization Eco Future Fund (headquartered in Tokyo's Akasaka area; Chairman, Mr. Hiroaki Takahashi), and contributes 0.5% of the value of shipments of environmentally friendly products to the Eco Future Fund. The Pack Forest Fund also promotes forest preservation and the afforestation business, and together with customers that use environmentally friendly products is engaged in various environmental protection activities.
The Pack, Matsuura Sangyo, and Kuraray will continue to be active in the development and promotion of environmentally friendly products, contributing to the realization of a recycling-intensive society.
1.

Product launch

The Pack will commence marketing on January 20, 2004.
2.

Price

Same as existing products
2.

Sales targets

First year ¥100 million (after product price conversion)
Subsequent years ¥300 million (after product price conversion)