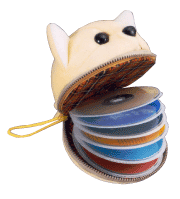 Kuraray Living Co., Ltd., a wholly owned subsidiary of Kuraray Co., Ltd. located in Osaka, will release the soyana™ series of animal cases for CDs and DVDs on December 22, 2003 in Mitsukoshi department stores in Osaka. Available in five dog-shaped styles, the cases will sell at a suggested retail price of ¥1,500 (excluding tax) each.
These soyana™ cases can hold 12 CDs or DVDs, and feature Kuraray's man-made leather CLARINO. Part of the case can be used to remove dust from CDs and DVDs.
Made of extremely micro fibers, CLARINO man-made leather is ideal for removing dust from PC and mobile phone screens, and is often used in IT-related accessories for cleaning screens.
Backed by a boom in pet ownership in Japan, animal accessories are popular among mainly women in their teens, 20s and 30s. Animal accessories are expected to become more popular as room and car accessories.
Overview of soyana™
1.

Specifications
| | |
| --- | --- |
| Size | W160 x H105 x D210mm (slight variations because it is a stuffed animal) |
| Storage capacity | 12 CDs or DVDs. Small pocket for batteries or earphones. |
| Types | 5 types of dog designs (Japanese Shiba, Husky, Dachshund, Chihuahua, Bernese Mountain Dog) |
2.

Functions
(1)

A part of the dog, which is made of CLARINO man-made leather with extremely micro fibers, can be used to clean dirt off of CDs and DVDs.

(2)

The CD/DVD storage part can be detached, allowing the case to be used as a pouch for holding small items.
3.

Price

Suggested retail price: ¥1,500 (excluding tax)
4.

Release date

December 22, 2003
5.

Sales channels

Department stores (plans call for expanding into direct sales and through consumer cooperatives)
6.

Sales target

¥30 million (first year)