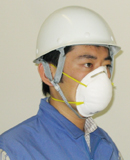 On September 25, Kuraray's new KS2 series of disposable anti-dust masks will go on sale. These masks, which have been designated category DS2 masks by the Japanese Government, have superior filtration properties that make them highly suited for dusty industrial environments, such as those where grinding, welding, processing, or other industrial processes involving powders or particulate matter are conducted.
To meet the Japanese government's standards for a DS2 mask, the KS2 series uses a high-performance electrification filter as its main filter. These masks use static electricity to supplement their ability to filter minute particles, and the increased efficiency results in superior filtration properties. In addition, careful selection of materials, design, and fabrication ensures that these masks do not lose their shape, but conform to the shape of the face and nose to prevent leakage around the mask's edges, while offering the optimum fit.
The new KS2 series includes three types: a standard type, a type that uses activated carbon to remove organic and inorganic odors, and a type that incorporates a high-performance exhalation valve for easy breathing.
Japan's Industrial Safety and Health Law mandates a safe and healthy working environment, and promotes the creation of optimum industrial environments. Most importantly, this law calls for measures to create a work environment that prevents damage to workers' health from dust and SPM (Suspended Particulate Matter), including installation of facilities and equipment, and improvements to manufacturing processes and methods. Disposable respiratory protection devices are subject to standards established by the Ministry of Health, Labor and Welfare for industrial hygiene protective devices. The KS2 series has been certified as meeting these standards.
Kuraray markets simple masks for industrial use, business use, and food handling use. The Company's product lineup is greatly enhanced by the addition of the KS2 series to its existing K1 series, and can now serve a number of industrial needs. Kuraray will continue to develop new products in response to the needs of the market, and to develop new businesses.
KS2 Series Disposable Dust Respirators
1.

Application

Dusty work environments
Grinding, cutting, welding, crushing, processing, particulate matter handling, loading and unloading, bagging, powder application, etc.
2.

Specifications and Price (excluding comsumption tax)
| | | |
| --- | --- | --- |
| KS2 | Standard type | ¥330 each |
| KS2-C | Organic odor prevention type (with activated carbon) | ¥400 each |
| KS2-V | Exhalation valve type | ¥380 each |
3.

Features
(1)

Excellent anti-dust properties (blocks over 95% of dust particles)

(2)

Fits snugly to the face, preventing leaks


Aluminum nose-bridge
High-density urethane sponge for nose
Tough rubber fasteners

(3)

Good ventilation

(4)

Lightweight-does not block vision

(5)

Disposable for better sanitation

(6)

Activated carbon stops organic odors (KS2-C)

(7)

Breathe easy through exhalation valve (KS2-V)
4.

Sales Channels

Sales through factory and industrial product stores located throughout Japan
5.

Release Date

September 25, 2003
6.

Sales Target

¥100 million in the first year