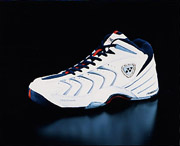 As part of our CLARINO Renaissance Plan, we recently developed a highly original new man-made leather material. Made using the compound non-woven substrate technology in which Kuraray excels, the new material consists of a non-woven substrate of polyurethane fibers over which is laid a layer of two types of micro-fiber with different deniers. This is covered with a thin polyurethane layer that is permeable to moisture and air. Finally, we have also applied the same finishing methods as are used for natural leather to the new material. The new product, called PARCASSIO, is scheduled to be launched on the market at the end of September.
Since the launch of CLARINO in 1965, Kuraray has been the leading manufacturer of man-made leather in the world. We have continuously improved our CLARINO products to make their qualities more closely approach those of natural leather. Starting with shoes and bags, the applications of CLARINO have expanded to include a wide range of clothing and furniture. Related product lines include the synthetic suede material AMARETTA. All the Company's man-made leather products have gained an excellent reputation among consumers.
Recent years have seen a bewildering pace of development of synthetic leather products in other East Asian countries. At Kuraray, we have positioned the year 2001 as the initial year of what we call the CLARINO Renaissance. This is a plan we have drawn up under which we aim to make an energetic approach to tackling the various issues facing our man-made leather business and drafting a long-term approach for the 21st century. One of these issues is the development of a new material that features original properties and that is capable of giving fresh life to the image of man-made leather.
PARCASSIO combines the superior functionality of man-made leather with the beautiful appearance and pleasant touch of natural leather, and we are confident that it will become the new mainstay man-made leather material. We have already developed applications for the material in shoes and bags in Japan, and are currently pursuing other marketing activities for the use of PARCASSIO, rapidly developing applications in the fields of furniture coverings and clothing. In the future, its applications are sure to spread globally over a very wide field. We aim to foster this new material into the central pillar of our CLARINO operations.
1.

The concept behind the development of

PARCASSIO

To achieve the development of a high-quality grain materials that are superior to existing man-made leathers, Kuraray adopted the following concepts.
(1)

The material must maintain the feel and appearance of natural leather while possessing properties not found in the latter.

(2)

The material must have a high degree of originality and be able to display superiority on the world market.

(3)

The technology behind the material must be capable of development into all fields of application.
2.

A Description of

PARCASSIO
(1) Characteristics
1.

The material has the same high-level qualities in terms of feel and appearance as natural leather (texture, grain)

2.

Excellent surface properties (flexibility, abrasion resistance)

3.

Water vapor permeability; air permeability

4.

Light weight (approx. 70% the weight of natural leather)

5.

Easy to take care of
Kuraray's material for use in interior furnishings, currently under development, displays strong durability and chemical resistance. The material developed for clothing use features a soft texture and good perspiration resistance and oil resistance.
(2) Technical Features
| | |
| --- | --- |
| Fibers | Extremely fine (0.07 denier) nylon fibers and ultra-fine (0.0001 denier) nylon fibers |
| Substrate | Polyurethane and the above-described nylon fibers laminated and entangled |
| Skinlayer | Newly developed polyurethane layer that features water vapor permeability and air permeability |
| Surface resin | Special spray-use resin (newly developed) that makes possible a very strong surface |
| Finishing technology | New finishing technology (newly developed) that employs methods used in the finishing of natural leather |
The man-made leather material we have recently developed for use in making shoes not only rivals natural leather in attractiveness, but is also easily stretched and has a beautiful soft feel. Thanks to these qualities, plus its superior surface properties (flexibility and abrasion resistance), PARCASSIO displays the fruits of a fusion of the leading-edge non-woven material technology and coating technology embodied in CLARINO with the traditional processing techniques used with natural leather.
(3) Patent applications
8 patents applied for in Japan, 5 overseas
(4) Fields of application
Shoes, bags, furniture coverings, apparel (eventual expansion to the full range of applications planned)
(5) Market launch
End of September 2001
(6) Sales targets
Initial business term (FY2002); 800,000 sq.m.
2nd business year (FY2003); 2 million sq.m.