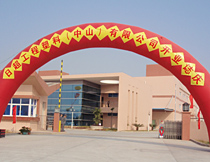 JAPAN SUPER ENGINEERING PLASTICS
(ZHONGSHAN) CO., LTD.
On January 21, 2008, JAPAN SUPER ENGINEERING PLASTICS (ZHONGSHAN) CO., LTD. (Zhongshan, Guangdong Province, China), which was jointly established by Kawasaki Sanko Kasei Co., Ltd. (Headquarters: Yokohama, Kanagawa Prefecture; "KSK") and Kuraray Co., Ltd. (Headquarters: Chiyoda-ku, Tokyo; "Kuraray") in April 2006, held a completion ceremony for its resin compound production facilities.
China's Guangdong Province, where the new factory is located, is experiencing growing demand for compounds for engineering plastics due to accelerated market penetration not only by electric- and electronics-components manufacturers, but also by automakers and auto-parts manufacturers. There has been a particular surge in demand for Kuraray's heat-resistant polyamide resin compound, PA9T GENESTAR, thanks to the compound's superior characteristics; these include high heat and chemical resistances as well as high insulation, coupled with low water absorbency and traction.
KSK already has factories in Shenzhen, Beijing and Shanghai, boasting 80,000 tons of annual production capacity. With the completion of the Zhongshan factory, KSK's annual production capacity will increase to 90,000 tons in China, allowing KSK to respond to increased demand for resin compounds in southern, northern and eastern China. Particularly in southern China, the completion of the new factory will enable speedier services for automobile and electric device-related users in the area encompassing Guangzhou.
KSK and Kuraray will continuously join forces to develop resin compounds that best accommodate user needs, while expanding their resin compound businesses in China, Southeast Asia and other regions.
Company name
JAPAN SUPER ENGINEERING PLASTICS (ZHONGSHAN) CO., LTD.
Representative
Masao Asai
Business activities
Compounding for engineering and general-purpose plastics and other related businesses
Establishment
April 26, 2006
Production capacity
10,000 tons/year (upon inauguration)
Number of employees
50
Facilities
Cutting-edge, high-performance biaxial extruder
(aperture: 70mm and 58mm)
Location
Huoju Dadao, Concentrated-constructed Quarter, Zhongshan High-Tech Industrial Development Zone, Zhongshan, Guangdong Province, China
Investment
US$8.0 million
Capital
US$4.0 million
(KSK Group: 70%, Kuraray Group: 30%)