Using new technology, Kuraray has developed the MIRABRIGHT LCD backlighting device.
It is building new manufacturing facilities for these devices, and manufacturing will commence from April 2005. The Company has entered into an alliance with customers for product expansion, and intends to commence full-scale commercialization in the beginning of 2006.
LCD panel backlighting device units are composed of a light guide and diffusion film. The MIRABRIGHT is just a one-piece multifunction light-guide plate that integrates these functions using micro-lens architecture.
In earlier systems, backlighting device units were composed of three different kinds of sheets, which are a light guide which passed light uniformly from the light source to the LCD panel, a diffusion sheet which diffused the light from the light-guide plate, and a prism sheet which functioned to concentrate the ray emitted from the light guide plate in the normal direction. This type of backlighting device unit required a number of components, so it was desirable to develop a unit that both reduced the number of components and offered better performance.
In the MIRABRIGHT, a special OP film that functions as a diffusion sheet and prism sheet is bonded to a methacrylic resin light guide.
Because this single-layer device offers the same performance as earlier, four-layer devices, backlighting device units can be thinner and of consistent quality, and the cost of parts and assembly can be reduced. This is tied to increased yield.
In addition, the micro-lens architecture of the OP film ensures that all light from the light guide is passed to the LCD plate, which results in a 20% improvement in light utilization efficiency over earlier technologies (according to Kuraray research).
Kuraray is currently engaged in the development of ultraslim light-guide plates (second-generation MIRABRIGHT devices) through innovation in film-type backlighting devices.
Construction Comparison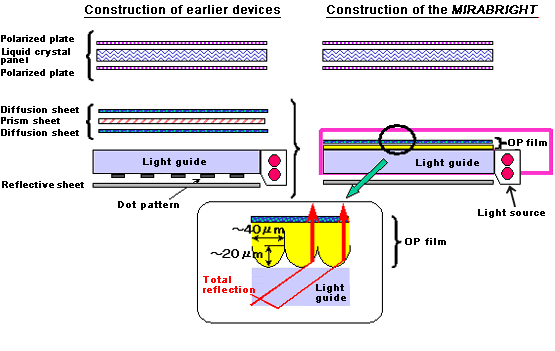 Kuraray is presently engaged in the commercialization of methacrylic resin sheets and methacrylic resin for light-guide plates used in backlighting devices. However, in anticipation of further growth in the flat-panel display field, the Company is moving forward with the development of more highly processed components to give it an increased downstream presence.
The Company is strengthening its market-linked development system, particularly at its Optical Device R&D Center, which opened in March 2003, and is moving forward with the development of various kinds of display components.
The MIRABRIGHT is one product born of this effort. Through aggressive commercialization we plan to nurture this product into a ¥3 billion per year (net sales) business in the third year after full-scale commercialization.
1. Production
| | |
| --- | --- |
| Production capacity | 100,000 sets per month (15-inch, display conversion) |
| Required investment | Approximately ¥300 million |
| Location | Kashima Plant (Ibaraki Prefecture) |
| Commencement of production | Scheduled for April 2005 |
2. Applications
(1)

Medium sizes

Monitors (10 to 20 inches)
cold cathode tube for use with line sources

(2)

Small sizes

Mobile telephone and digital camera displays (2 to 5 inches)
LED for use with point sources
3. Commercialization concept
April 2005
Start of small-scale manufacturing , expand product lineup
2006
Full-scale commercialization(120,000 units per month)
2008
Expand production capacity (240,000 units per month)
Business scale of ¥3 billion in sales annually