Kuraray Plastics Co., Ltd. (Headquarters: Osaka; President: Katsuhiko Kishi) has developed and begun marketing a new line of oil-resistant hoses made from a special, transparent polyvinyl chloride resin. The "Oil Queen" hose will go on sale July 20, and is expected to find a broad market for use in industrial and agricultural machinery.
Kuraray already markets the Kuraray Loop Hose brand of PVC delivery and suction hoses, which are used in a number of fields.
To the present, most oil-resistant hoses have been made of opaque black compounds that made it impossible to see the fouling of oil from the outside.
Now user preferences have changed and consumers come to want transparent, fouling-resistant suction hoses that allow them to see whether oil is depleted or dirty at a glance. The "Oil Queen" oil-resistant, transparent hose was developed from a special compound in response to this demand. Its characteristics of lightness, plasticity, and flexibility make it easy to use.
Product name: Kuraray
Oil Queen

DS-3 Loop Hose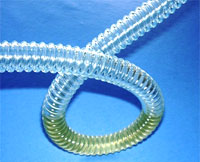 1.

Characteristics
Because both flexible and rigid parts of the hose are transparent, it is easy to confirm the condition of running fluids in the hose.
It has excellent oil resistance because it is made from a special compound, is resistant to color change from contact with oil, and is suitable for use with heavy oil, light oil, kerosene, lubricating oil, and many others.
It resists fouling by flowing oil through it.
It has excellent low-temperature resistance, retaining its plasticity at temperatures down to -10℃.
The hose's striated outer surface makes it easy to use, because of its lightness, plasticity and flexibility.
2.

Specifications and properties
| Size | Inner diameter | Outer diameter | Pitch | Weight | Allowable pressure |
| --- | --- | --- | --- | --- | --- |
| 19 | 19.4mm | 25.6mm | 7.2mm | 210g/m | 0.3MPa |
| 25 | 25.4mm | 33.8mm | 8.0mm | 325g/m | 0.3MPa |
| 32 | 31.8mm | 40.2mm | 8.2mm | 400g/m | 0.3MPa |
3.

Sales targets

First year: ¥30 million
After three years: ¥200 million
Kuraray Plastics Co., Ltd.
Headquarters
Shin-Hankyu Bldg., 9th Floor, 1-12-39, Umeda, Kita-ku,Osaka 530-8611, Japan
President
Katsuhiko Kishi
Paid-in capital
¥180 million
Number of employees
200
Field of business
Manufacturing, processing, and sale of rubber and plastic hoses, various molded products, potable water piping, laminated products, and

SEPTON

compounds and molded products.