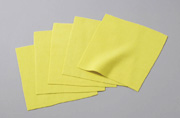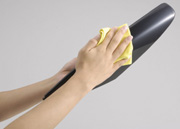 Example of wiping cloth use
Kuraray Living Co., Ltd. (headquarters: Osaka City, President: Kiyoshi Kitagawa), a manufacturer and seller of packaging materials and miscellaneous goods and a processor and seller of nonwoven fabrics, has developed an antistatic wiping cloth with eco-friendly high-durability, in cooperation with Komatsu Seiren Co., Ltd., a major fabric dyeing and printing company. Allowing for use over a long period of time, this new wiping cloth will go on sale from February 20, 2007. Kuraray Living is applying for a patent for the new wiping cloth.
The new wiping cloth uses Kuraray's original CLACARBO thread, which is known for its carbon-containing conductive fiber. The fusion of CLACARBO's antistatic properties and Komatsu Seiren's antistatic processing capabilities has achieved a further improvement of the new cloth's antistatic properties, while enhancing the sustainability of the product's antistatic performance for a longer period.
Recently, wiping cloths made from ultra-fine thread measuring one Dtex(*) or smaller are gaining popularity for wiping off fine dust and dirt from plastic molded products, home appliances and furniture. But conventional wiping cloths generate static electricity when used, causing dust and dirt collected on once-cleaned objects. The significance of this drawback cannot be overlooked, particularly for painted or coated products. Dust and dirt on a product's surface have to be completely eliminated before final painting or coating can take place in order to prevent defective painting and coating and make the finished surface even.
The new wiping cloth suppresses static electricity generation when used, thereby preventing dust and dirt re-deposition on cleaned objects, which is caused by electrostatic charge. In addition, the antistatic performance of the wiping cloth can remain high even after it is washed a number of times. The mechanism that solves the dust and dirt re-deposition problem is as follows: (1) keeping the friction-charged electrostatic potential low and (2) reducing the "half time," which is the time required for friction-charged electrostatic potential to halve, down to one second. Thanks to this mechanism, the new wiping cloth suppresses friction-charged electrostatic potential when used for wiping objects, and the static electricity generated can be neutralized within one second. These excellent antistatic properties consequently prevent an electrostatic charge from forming on objects that are wiped with the new cloth. The high-durability also enables long-term use of the cloth, distinguishing the product as an eco-friendly wiping cloth.
The new wiping cloth can be used effectively in: (1) final wiping before painting or coating plastic molded products; (2) automobile cleaning at gas stations; (3) dust/dirt removal for automobile interiors and exteriors; (4) cleaning home appliances; and (5) cleaning and maintaining fine furniture and artwork.
*

One Dtex refers to a thread measuring 10,000 meters long and weighing one gram.