The creation of new businesses is one of Kuraray's most important management issues, and with this in mind the Company is working to strengthen its research and development organization. In April 2005 the Corporate Strategy and Planning Division and the Research and Development Division combined to become the New Business Development Division, and it has been decided to reorganize the Kurashiki Plant along the lines described below.
At present, Kuraray's Kurashiki Plant includes three locations: the Kurashiki site, which is an R&D and manufacturing facility, the Research Laboratory, which concentrates on research and development, and the Tamashima site, which is a manufacturing facility.
Of these, the Kurashiki site has the longest history, and its structures and facilities are aging. Extensive repairs and rebuilding are needed. Therefore, after consideration of the limitations imposed by the residential and commercial areas that have sprung up around the site , and after studying the various factors involved in replacing structures and equipment within the plant, we have decided to embark on a three-year reorganization of the Kurashiki Plant's facilities and functions at a total investment of ¥10.0 billion.
1.

A new facility will be built at the Tamashima site, provisionally named the Manufacturing Technology Development Center . The greater part of the R&D functions now dispersed among several structures at the Kurashiki site will be moved into the new facility, consolidating and strengthening our research and development structure, and accelerating the creation of new businesses.

2.

Most of the Kurashiki Site's manufacturing facilities and administrative divisions will be moved to the Tamashima Site, which will result in the effective utilization of infrastructure and contribute to the building of an efficient manufacturing structure.

3.

The Kurashiki site will retain its medical-related manufacturing facilities, and some R&D functions will be shifted to the Research Laboratory.
This will enhance the efficiency of both facilities.
Additional Information
Information on the Kurashiki Plant (as of June, 2005)
Numbers given for employees include part-time workers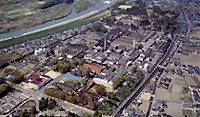 Kurashiki Plant
(1)

The Kurashiki site

Address: Sakazu 1621, Kurashiki City
Lot size: Approximately 220,000m²
Number of employees: Approximately 800
Business activities: Development of fibers and textiles, resins, man-made leather, and medical products.
Development of technology. Manufacturing of medical products (dental materials, artificial organs), industrial membranes, and other products.

*

Medical products are manufactured by Kuraray's wholly owned subsidiary, Kuraray Medical Inc.

(2)

The Research Laboratory

Address: Sakazu 2045-1, Kurashiki City
Lot size: Approximately 9,000m²
Number of employees: Approximately 90
Business activities: Kurashiki Research Laboratories, Analytical Technology Center; basic and applied R&D; analysis.

(3)

The Tamashima site

Address: Otoshima 7471, Tamashima, Kurashiki City
Lot size: Approximately 410,000m²
Number of employees: Approximately 250
Business activities: Manufacturing of polyester staple fiber and optical-use poval film (facilities now under construction).

*

Polyester staple fiber is manufactured by Kuraray's wholly owned subsidiary, Kuraray Tamashima Co., Ltd.
History of the Kurashiki Plant
1928 Kurashiki
Production of rayon filament yarn begun (Terminated in 1987)
1956 Tamashima
Production of rayon filament yarn begun (Terminated in 2001)
1964 Tamashima
Production of polyester staple fiber begun (Kuraray Tamashima Co., Ltd. spun off in 2003)
1968 Research Laboratory
Established as Kuraray Central Research Laboratory
(Now Kurashiki Research Laboratories, Analytical Technology Center)
1972 Kurashiki
EVAL film manufacturing begun (Transferred to Okayama Plant in 1985)
1980 Kurashiki
Dental materials manufacturing begun (Kuraray Medical Inc. spun off in 2001)
1981 Kurashiki
Manufacturing of hollow fiber for artificial kidneys begun
(Transferred to Kuraray Medical Inc. in 2001)
1985 Kurashiki
Contact lens manufacturing begun (Transferred to Kuraray Medical Inc. in 2001)
1989 Kurashiki
Melt blown nonwoven fabric manufacturing begun
(Transferred to Saijo Plant in 1995)
Hook and loop fastener manufacturing begun
(Transferred to Magic Tape Co., Ltd., now Kuraray Fastening Co., Ltd., in 2002)
1998 Tamashima
Thermal recycling commenced (Use of waste plastic as fuel for boilers)
2004 Tamashima
Biomass power generation commenced
(Use of wood scrap from demolition as fuel for boilers)