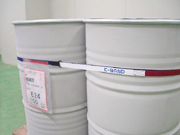 Kuraray Fastening Co., Ltd. (Headquarters: Osaka), which manufactures and markets MAGIC TAPE hook and loop fastener, has announced the development of K-HOLDER (patent pending), a plastic sleeve for shipping documents that will not peel even at -30℃; and K-BAND, a freight banding material made of MAGIC TAPE with a reinforced reverse surface. Kuraray Fastening will commence full-scale marketing on June 13, primarily to the refrigerated transport industry.
Refrigerated transport has brought people significant dietary improvements. It is tied to manufacturing, storage, shipping and marketing, and requires strict standards of quality control and hygiene. In the newest multistory automated refrigerated warehouses, computer-controlled cargo handling machinery automatically moves palletized material to and from its storage rack. Completely automated handling allows these facilities to receive, store, and discharge products from diverse sources 24 hours a day, every day of the year.
The labeling of goods for refrigerated storage has, however, been an issue. Goods in refrigerated storage must be labeled with the product name, producer, and destination, etc . Adhesive tape distorts and peels off easily under low temperature conditions, and the industry has been searching for an effective resolution to this problem for some time.
To develop the K-HOLDER, Kuraray Fastening used a high-frequency welder to attach MAGIC TAPE, which is resistant to low temperatures, to a sleeve made of polyolefin film. (Polyolefin is a PVC-free resin made by combining EVA and a special polyethylene). The A4-size sleeves have a transparent front cover and a translucent back. K-HOLDER is arrayed with K-BAND, a MAGIC TAPE-based banding material for freight. K-BAND banding material was developed by reinforcing the reverse side of MAGIC BAND, an earlier product, with tarpaulin (a processed polyester resin fabric) to make it stronger and less stretchable. This allows K-BAND to be used with weightier freight and gives it a higher breaking strength.
Product Descriptions
1.

Characteristics
(1)

K-HOLDER

Usable at temperatures as low as -30℃.
Retains its shape for easy viewing of labeling information.
Can be used with IC tags incorporating the latest IT technology.
Multiple sleeves can be attached with one touch using K-BAND.
Because

MAGIC TAPE

is affixed at the top, sleeves can be reused.
The materials do not emit dioxins when incinerated, making this product eco-friendly.

(2)

K-BAND

Usable at temperatures as low as -30℃.
Uses the loop face of

MAGIC TAPE

and the hook face of

K-HOLDER.

Because it is based on

MAGIC TAPE

, it can be reused.
Because packaging materials such as stretch film and polypropylene banding are not disposed of after one use, the expenses of purchasing and disposing of packaging materials can be reduced.
No tools or equipment are required for banding freight with K-BAND, making these operations simpler and more efficient.
2.

Prices
(1)

K-HOLDER

: ¥350/each (A4 size)

(2)

K-BAND

: ¥900/roll (24mm × 4.8m)
3.

Sales targets (Both products as a set)
Initial year: ¥50 million
Second year: ¥100 million
After three years: ¥300 million
Kuraray Fastening Co., Ltd.
1. Headquarters
1-12-39, Umeda, Kita-ku, Osaka 530-8611, Japan (Shin Hankyu Building 9F)
2. President
Mitsuhiko Takaoka
3. Capitalization
¥100 million
4. Number of employees
120
5. Activities
Manufacturing, development, and sales of

MAGIC TAPE

woven hook and loop fastener,

MAGILOCK

extrusion molded hook fastener, and related products.