Since fiscal 2001, Kuraray has been implementing a five-year Medium-term business plan under the name "G-21." Below, we report on our achievements in the first two years of the plan and outline our scheduled measures for the remaining three-year period.
1. Summary of basic strategies under G-21 plan and evaluation of achievements thus far
(1)

Basic strategies

Strengthening of core businesses, including vinyl-acetate derivatives, isoprene-derivative, and man-made leather
Emphasis on strategic areas dominated by demand-pull forces, including materials for the IT sectors, eco-friendly products, environment fields, and medical products
Contribution to global environmental preservation efforts

No amendments have been made to the basic strategies of the G-21 plan. We intend to press forward with the execution of these strategies to create a company with solid earning power and a favorable reputation in the community.

(2)

Principal measures taken in fiscal 2001-2002

Committee set up to oversee the improvement of the Company's earnings structure (Aug. 2001)
Restructuring of polyester operations implemented (Oct. 2001 - April 2003)
Medical business split out (Oct. 2001)
PVA/PVB operations of Clariant AG acquired (Dec. 2001)
In-house company system introduced (April 2002)
Production of thermoplastic elastomer started at SEPTON Company of America (Sep. 2002)
Decision made to increase production facilities at EVAL Europe N.V. (Jan. 2003; start of operation scheduled for 3rd quarter of 2004)
Business process reengineering program initiated; performance-linked staff compensation system introduced; Shanghai Office opened; stock option scheme adopted; own shares purchased, etc

(3)

Evaluation of achievements in first two years of G-21

Achievements
Shortcomings

Short-term business results put back on recovery track
Inventory and financial assets reduced,leading to more efficient asset allocation

Process seen too slow
Insufficient new business start-ups
2. Basic strategies for last three years of G-21 (FY2003-2005)
(1)

Outline

On the basis of the shortcomings (slow implementation, insufficient new business start-ups) identified for the first two years of the plan, we aim to build a business organization capable of a fast and flexible response to changes in market conditions, and to move from a phase of "profitable growth" to one of actual growth in earnings.
To achieve growth in earnings, we must further reinforce businesses with good growth prospects, as well as our incubation functions for next-generation businesses.

(2)

Reinforcement and expansion of growth businesses

Strengthening vinyl-acetate derivatives businesses and optical technology-related products
Aiming at substantial and continuous effects from investment in new production equipment
Focusing management resources on capital investment and research and development

(3)

Strengthening incubation functions for next-generation businesses

Product development center for optical devices to be opened (March 2003)
Corporate reorganization to facilitate business alliances and M&As (April 2003)
Establishment of Research and Technical Center in the U.S. (autumn of 2003)
3. Capital investment and M&As
Investment in equipment will be focused mainly on the viny-acetate derivatives business, and on the optical technology products business.
| | FY2001-02 | FY2003-05 | G-21 Total |
| --- | --- | --- | --- |
| Capital investment | ¥35 bn | ¥80 bn | ¥115 bn |
In the area of mergers and acquisitions, we will additionally employ a vertical (upstream to downstream) approach in view of the need to strengthen and expand our core businesses. We plan to proactively seek outside technological input through M&As and business alliances. The objective will be not merely to introduce new technological know-how, but to create novel technologies by the fusion of other companies' expertise with our own in-house technology.
4. In order to pursue further corporate growth, we aim to develop high-performance and high-value-added products using our original technologies from a viewpoint of market-in approach, as shown in the following table.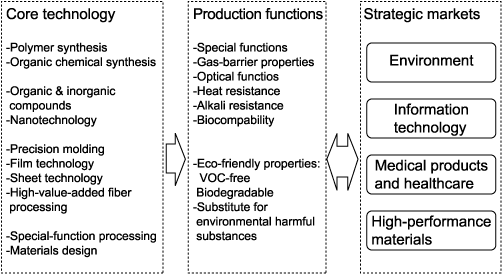 5. G-21 goals for final year of plan (FY2005)
Net sales: ¥400 billion
Operating income: ¥40 billion
Return on Assets (ROA): more than 8%
Note: The above figures assume exchange rates of ¥120 to both the U.S. dollar and the euro, and crude oil price of $25 per barrel
Seeking further capital utilization efficiency
Total asset turnover: 0.9 times
Inventory turnover: 1.8 months
Assets, liabilities and shareholders' equity (Billions of yen)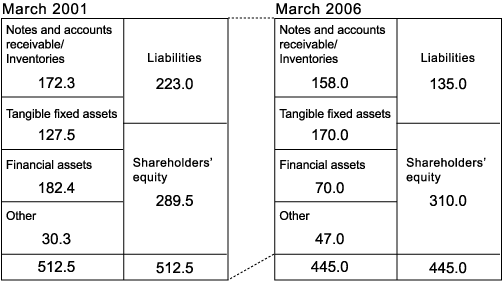 Forward-Looking Statements
Statements contained in this news release related to future plans of the Company, including numerical targets and so forth, are forward-looking statements, and do not constitute in any way a pledge or guarantee of future performance.